Join us in the Osmosis Meditation Garden for an unforgettable, heart and soul filled performance. All proceeds will benefit the Ceres Community Project.
The evening begins with a cheese and wine reception on the front garden at Osmosis. An exquisite farm to table dinner will be prepared and served by the Ceres Community Project. CERES is a local non-profit teaching teens to cook while providing wholesome prepared food to families facing life-threatening illnesses. After dinner, guests will be ushered into the outdoor theater for the performance.
The Performance
BrightSide Blue is a duo from Nevada City that combines heart and soul filled vocals with virtuosic guitar-work to create brilliantly colored musical portraits. Ananda and Lindsay carry a powerful yet sensitive approach to their songwriting and performances, leaving audiences smiling and spellbound. 
"This love story has a soundtrack."  Lindsay Bellows and Ananda Vaughan have found the perfect complements in each other: Lindsay is a soulful songbird, who soars and dives over the lush textures of Ananda's musical landscapes. Equal parts groove and melody, their songs keep audiences delightfully engaged — tapping feet, singing along, and basking in the love for life that radiates from this couple.
Ananda trained for many years as a jazz guitarist and has found inspiration in other guitar masters from rock, folk and world music. Lindsay grew up with pop and R&B music, and studied the influencers of her childhood idols — the soul and blues singers of the mid 20th century. The pair brings together the best of all these genres to create a sound that is authentically and uniquely their own.
BrightSide Blue has just released their latest EP, BETWEEN WORLDS. Their debut EP "Two Hearts, One Take" was released in Spring 2017.  
Tickets are all-inclusive with dinner from Ceres Community Project, Wine, and Cedar EnzymeFootbaths.
Menu
Moroccan Chicken with green olives, dates, orange, and preserved lemon
Mushroom White Bean Cassoulet
Roasted Red Pepper Polenta
Kale and Cabbage Slaw with carrots, toasted sunflower, and sesame seeds and maple tahini dressing
Local Bread Basket, Strauss butter
Local Berry Crisp with Straus vanilla whipped cream
Itinerary
6 pm – Dinner catered by Ceres Community Project with wine by Davis Family Vineyards

7 pm – Performance by BrightSide Blue

8 pm – Dessert and Cedar Enzyme Footbaths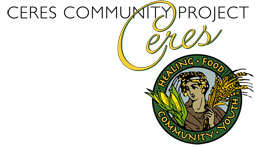 The Ceres Community Project

 creates health for people, communities and the planet through love, healing food and empowering the next generation.

♥ Supporting individuals dealing with serious illness with free and low-cost, delivered and nutrient-rich prepared meals, nutrition education, and a community of caring.

♥ Involving young people as volunteer gardeners and chefs, giving them direct, hands-on experience of the difference that fresh, healthy foods and community make, and of their own capacity to contribute.

♥ Educating the broader community, including health professionals, about the connection between fresh, healthy food, strong social networks, healing and wellness.

♥ Connecting people of all ages and from all walks of life to one another, and to their value as an integral part of the community.